Minimal variations in shape, colour and size:
Our unique products are created in a careful, multi-stage manufacturing process. Each jewellery component is handmade from natural materials. It is important to know that slight variations in shape, colour and size are part of our craftsmanship and should in no way be considered a defect. On the contrary, they testify to the use of natural materials and emphasise the uniqueness of each individual product.
Please note that minimal deviations in colour representations may occur due to individual screen settings over which we have no control. We would like to point out that for these reasons we cannot consider any complaints after purchase.
For a personal experience, we cordially invite you to visit us at one of the many jewellery fairs in Europe. There you will have the opportunity to select your desired jewellery components on the spot and take them directly home with you. You are also welcome to visit us in our showroom, in which case we would ask you to make an appointment with us in good time.
We hope that you appreciate the uniqueness of our handmade products and look forward to your visit.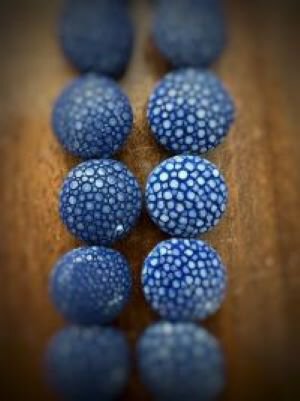 With this stingray leather drop you can see how varied the structure of each individual stingray leather bead can be. The very fact that each leather hide has a slightly different structure gives you the opportunity to make unique one-of-a-kind pieces. Your customers will thank you for it...
Use of the ray beads:
Especially in the jewellery sector, our handmade ray leather jewellery components are indispensable. They are often used to make earrings, necklaces and bracelets. These components are often combined with precious materials such as  pearls, silver and gold.
You can find our selection of stingray components for shmuck making here.